VCSL celebrated Diwali this year with its annual, free, sell-out Dinner and Dance event. The anticipation of the night's event built as the hall was prepared and transformed by the committee and volunteers. The morning's excitement peaked as a box of SouthSide magazines, hot-off-the-printers, emerged, finally turning the ideas behind the magazine into a tangible reality.
As we reconvened at the start of our Diwali Dinner and Dance, members and friends started to arrive, dressed to celebrate. The attendees had the opportunity to meet and greet everyone before the buffet dinner was opened. There was an exciting twist to this year's dinner with a party menu on offer: batata wada, pav bhaji, vegetable biryani, raita, chutneys etc. Once appetites were satisfied, the programme commenced.
Our Chairperson, Jyoti Bharkhada, hosted the evening and after her own welcome, a wonderfully colourful interpretation of Ram-Leela was performed. Then, after the main aarti, the presentation of awards to young Vanzas was held, something that VCSL is very proud to be doing. Once our monetary donors and sponsors had been individually acknowledged and thanked, the audience was treated to the first dance performance of the night from Shivani and Megna Kiran Gohil. They danced enthusiastically in synchronous and the audience were ready to join them on the dance floor! However, a few more items remained on our programme.
VCSL were proud to be launching the Diwali 2013 issue of SouthSide, VCSL's magazine. Driven by the hard work and aspirations of Malti Bipin Vaghela and Deven Kaushik Jethwa, members were invited to pick up their free copies at this, one of our biggest events of the year.

The formal part to our evening concluded with a passionate and animated dance performance from Megha Sohante and at its finish, the lights were dimmed, the party music started playing and the floor was filled. A combination of new hits and Bollywood classics were played making sure that there was something for everyone! During those well-needed (rapid) dancing breaks, members had a chance to rehydrate and enjoy the delicious desert of gajar nu halwa with ice cream.  The music, courtesy of our resident DJs Contagious, kept people on their feet all night and as the last song finished, the crowd on the dance floor reluctantly took to their seats.
Raffle time. In keeping with our Diwali celebration traditions, VCSL had a number of raffle prizes available with our very own mystery prize.
With that, the night drew to a close. We hope that each and every one of our members and guests enjoyed the night and hope that you all enjoy reading your copies of SouthSide. As ever, we would like to thank the executive committee and all our volunteers for their help and to our members for their support without which the night would not have been possible.
Participants in the Rama Parivar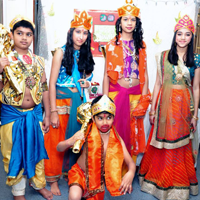 Sitaji – Nimisha Alpesh Jethwa
Laxman – Karina Atul Rathod
Hanuman – Varun Atul Rathod
Ram – Ayushi Shah
Ravan – Ronik Shah
VANZA Youth Receiving Achievements Awards

Devika Kausik Jethwa
Kirtin Bipin Vaghela
Devina Kausik Jethwa
Malti Bipin Vaghela
Deven Kausik Jethwa
Raffle Prizes & Sponsers
Gold Pendent – Palasons Jewellers
Halogen Oven – Parshhotam Jethwa & Sons
Ganesh Murti – Little India Ltd
iPOD Shuffle – Dipak & Kajal Katwa
Diwali Hamper
Mystery Prize – Taraben Chavda