VCSL held their annual Navratri celebrations in the Dance Studios at the Archbishop Lanfranc School on Saturday 5th and Sunday 6th October 2013. This ever-popular event was well attended over the auspicious weekend by young and old alike, and all those who came thoroughly enjoyed themselves.
Our well-acquainted DJs, the recently renamed Contagious, kept people on their feet and singing along all night long, from garbas to Bollywood songs, there was something for everyone. Both evenings started with our first aarti, before lively renditions of: 'ek taali' and 'teen tali' garbas, 'ramjonio' and 'sanedo'; our main aarti; and the timeless favourite dandia raas. All dances were performed with enthusiasm, vigour, elegance and grace, with several circles of garba simultaneously being performed but a dizzying performance of dandia raas really stole the show on the final night with extra spins and swaps complicating a normally simple routine; even onlookers felt dizzy just from watching!
Saturday night saw the return of the aarti competition, which reappeared last year for the first time in many and a number of intricately decorated thalis were entered for judgement. A great deal of creativity and time went into each entry; thalis were covered in colourful beads, sabudana, mung dal, flowers and more to create swastiks, geometric patterns, aums and other designs. Everyone appreciated the individuality in each entry but with much difficulty, the winner was judged to be Meera Jethwa. A prize of a beautiful glittered vase was awarded.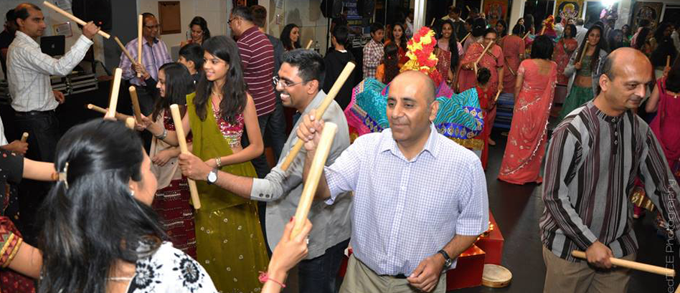 Sunday night saw the return of the 'Best Dressed Boy and Girl' competitions. These were fiercely contested with some beautiful outfits being fashioned on the night. The garba was a chance to show off the costumes before all the young girls and boys were lined up for the judging panel. From the sea of colour, jewels, silver, mirrors and bandhani, the judges decided on the winners: Varun Atulbhai Rathod and Ayushi Shah who were awarded gift vouchers. Both winners wore stunning traditional garba outfits: Varun wore an orange and maroon kediyu wari kurta whilst Ayushi fashioned an intricate blue chaniya choli.
Sunday also saw the addition of a special programme; Ashaben Samant entertained and educated us all with the relevance of this festival before singing a Garbo for us all to join in with. After this, we were in for another suprise as Gandhiji and his company graced us with his presence to commemorate the recently passed Gandhi Jayanti.
Finally, as per usual, Sunday's festivities were concluded with 'nasto-pani' including chevdo, sandwiches, grapes, mithai and more. All in all, the weekend shared with family, friends, and the rest of the Vanza Community in South London was a huge amount of fun and left us not being able to move our legs, feeling slightly dizzy and with 'Dholi Taro' on loop in our heads for at least the following week!