Vanza Community of South London's 22nd AGM was held at Archbishop Lanfranc School on Saturday 6th July 2013 followed by a quiz night.
The evening began with Hingraj Mataji's aarti and welcome by the chairperson, Jyotiben. A one-minute silence was observed as a mark of respect for the passing Vanza Bhandus.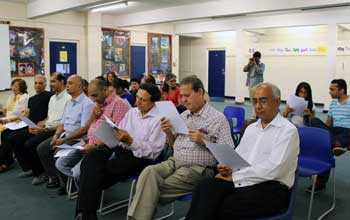 The outgoing chairperson, Jyotiben, welcomed and thanked all those that had attended the AGM. Thanks to the members of our sister organization Wanza Samaj for their support. The outgoing committee was thanked and the chairperson reflected on the committee's focus on the promotion and education of Vanza culture and heritage, and hoped that this would be a prevalent aim for the incoming committee over the next year.
The Secretary's Report outlined the outgoing committee's work whereby 11 committee meetings and 8 events had been organised. All the events are advertised on our website. On top of the successful events held by the outgoing committee, a number of new projects were started:
Storyboards, a collage of images has been created for every event and displayed at the Samuh Bhajan. This project is headed by Damyantiben Patel
A Facebook page for The Vanza Community of South London was set up and maintained by Malti Bipin Vaghela and Deven Jethwa
The ideas for a VCSL magazine, Southside were conceived. A request for articles and involvement from members was made. This project is headed by Malti and Deven
Google analytics added to the VCSL website maintained and managed by Bipinbhai Wadher whereby page hits and website traffic can be monitored
The outgoing committee was formally dissolved by Jyotiben and Dileshbhai Gohil and Lalitbhai Bhadresha were requested to chair the next part of the AGM.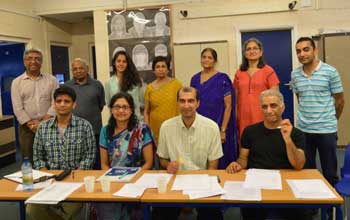 Nominations were received in advance and all office bearers were elected in the proper way, by being proposed and seconded.
The newly elected chairperson, Jyotiben formally closed at 8.25pm with blessings from Hingraj Mata and Guru Gopalal.
A light refreshment of sweet and savoury dishes were enjoyed by all. Then it was time for the fun filled family quiz which everyone was waiting for. The crowd was split in two teams; 'Samosas' and 'Kachoris'. A powerpoint presentation was prepared by Ramesh Bharkhada consisting of bollwyood and cricket questions. There was fierce competition between the Samosas and Kachoris. But as with every competition there is only one winner… Kachoris won by 21 points to 19. Thanks to everyone for taking part.